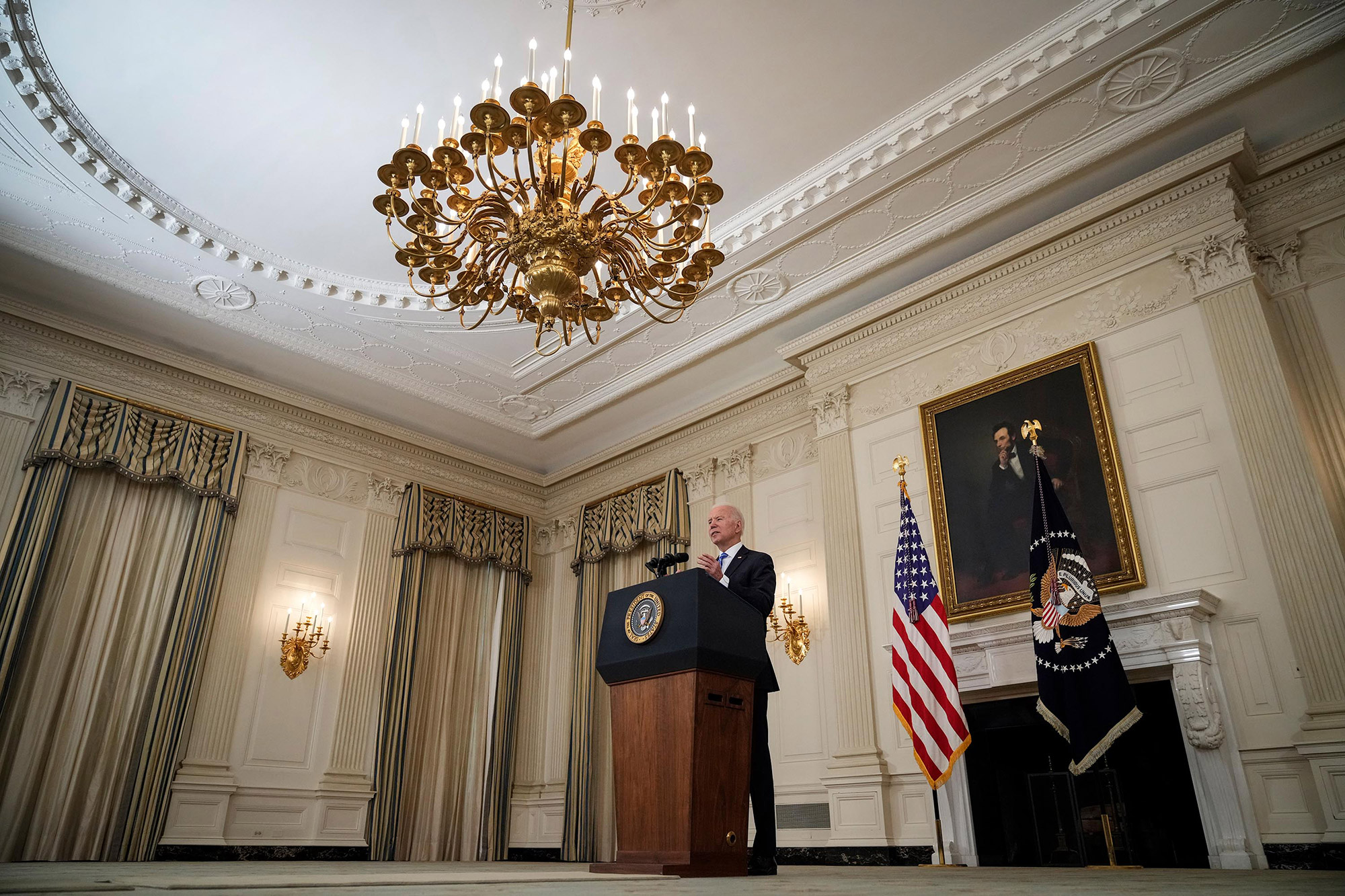 Ahead of tonight's town hall, President Biden directly confronted inflation concerns as he made a pitch for his sweeping infrastructure agenda and took aim at his critics while touting six months of economic growth under his administration.
Biden sought to tamp down the inflation fears as he made the case recent price increases are temporary. 
"As our economy comes roaring back, we have seen price increases. Some folks have raised worries that this could be a sign of persistent inflation. That's not our view. Our experts believe, and the data shows that most of the price increases we've seen were expected and expected to be temporary," he said during remarks Monday in the State Dining Room. 
He acknowledged, "Reality is, you can't flip the global economic light back on and not expect this to happen. As demand returns, there's going to be global supply chain challenges," citing price spikes with semiconductors, lumber, and the hospitality industry, all disruptions he described as "temporary."
Biden said his administration takes the threat of inflation seriously, however.
"My administration understands that if we were to ever experience unchecked inflation over the long term, that would pose a real challenge to our economy. So while we're confident that isn't what we're seeing today, we're going to remain vigilant about any response that is needed," he said.
He described his sweeping infrastructure agenda, which is working its way through Capitol Hill on two separate tracks, as a "force for achieving lower prices for Americans." 
And as the bipartisan infrastructure track of negotiations hit some road blocks, including disagreements on how to pay for the proposal, Biden sought to remind his Congressional colleagues that a deal had been reached, at one point interjecting, "The bipartisan infrastructure framework – which we shook hands on, we shook hands on."
Biden touted economic progress against the pandemic, directly quoting his predecessor, former President Trump, who warned during the 2020 campaign of a "depression the likes of which we've never seen" if Biden were elected. Instead, one day shy of the six-month anniversary of taking office, Biden said he "brought this economy back from the brink."
He touted his American Rescue Plan, which he noted was designed to help support Americans "over the course of a full year and beyond," including the expanded child tax credit, which began hitting bank accounts last week.