We've wrapped up our live coverage for the day. Find CNN's latest stories on the Russian invasion here, or scroll through the updates below to read more.
4 hr 16 min ago

From CNN's Josh Pennington and Anna Chernova
Russia's two senior lawmakers addressed complaints about President Vladimir Putin's "partial mobilization" Sunday, after an initial rollout marked by protests, drafting mistakes and an exodus of citizens fleeing Russia.
Valentina Matviyenko, the speaker of Russia's Federation Council, said on Sunday that she is seeing reports of "erroneous incidents of mobilizing citizens."
"Such extremes are absolutely unacceptable. And, in my opinion, the harsh reaction we are seeing in society is deserved," she said in a post on Telegram.
In a direct address to Russia's regional governors, Matviyenko told them they are "fully responsible for carrying out mobilization campaigns."
"[You must] ensure the implementation of the partial mobilization in full and absolute compliance with the announced criteria, no mistakes permitted!" she added.
Vyacheslav Volodin, the chairman of Russia's lower house of parliament, the State Duma, also expressed concerns in a post on Telegram on Sunday.
"It is important that partial mobilization takes place in accordance with the law," Volodin said, adding "appeals are coming in."
CNN's Sophie Jeong contributed to this report.
3 hr 25 min ago

From CNN's Kostan Nechyporenko 
Ukrainian forces have repelled Russian attacks in various location east of Kramatorsk, a city near the eastern edge of Ukrainian-controlled territory, the country's military said Sunday.
"The Defense Forces repelled the attacks in the areas of the settlements of Soledar, Vyimka, Kurdyumivka, Zaitseve," the Ukrainian Armed Forces said in a statement.
The Ukrainian military also announced that its artillery hit ten Russian weapon and military hardware targets in the eastern part of the Zaporizhzhia region.
"As a result of the fire impact on enemy facilities in the temporarily captured territory of Zaporizhzhia region, about 10 units of enemy weapons and military hardware were destroyed in the area of the settlement of Huliaipole, as well as one S-300 air defense system with ammunition storage near the city of Tokmak," Ukraine's General Staff of the Armed Forces said.
 The map below shows the latest areas of control in the invasion: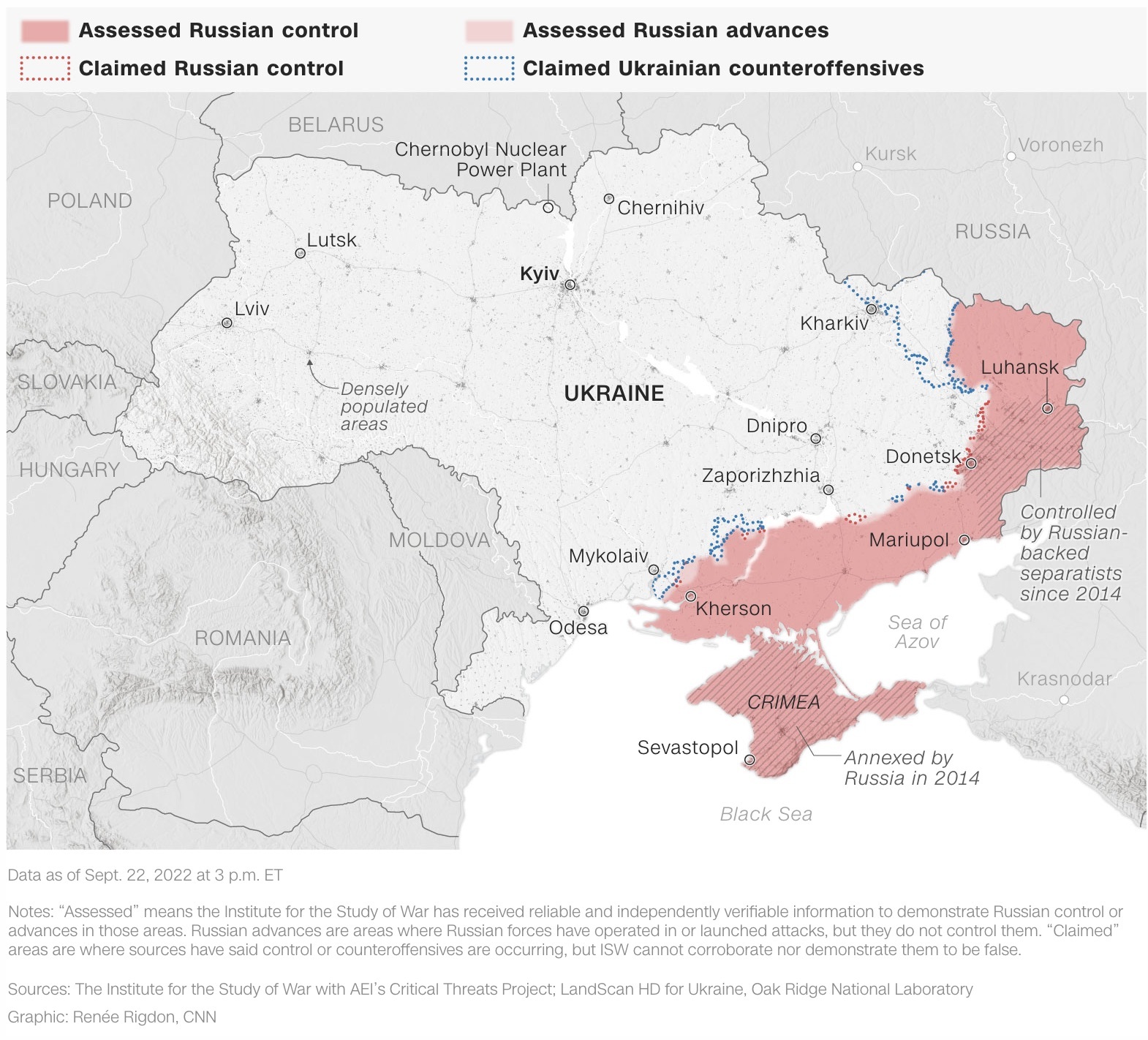 7 hr 17 min ago

From CNN's Pierre Meilhan
Russian President Vladimir Putin's partial mobilization order has forced Tatar men to flee Russian-occupied Crimea, a presidential representative to Crimea said on Ukraine's Parliament TV Sunday. 
"On the territory of the occupied Crimea, Russia focuses on the Crimean Tatars during the course of mobilization. In this way, Russia is trying to destroy the gene pool of the Crimean Tatars, who have not yet fully recovered after 1944 (deportations). Males are taken from the age of 18. People are forced to flee Crimea, which they have not done since 2014," Tamila Tasheva, Ukraine's presidential permanent representative in Crimea, said. 
Tasheva added, "Currently, thousands of Crimean Tatars, including their families, are leaving Crimea through the territory of Russia mostly for Uzbekistan, Kazakhstan. Since Crimean Tatars do not have foreign passports, only internal Russian passports. Therefore, Crimean Tatars can go only to those countries where citizens of Russia do not need a visa."
During his televised interview, Tasheva also advised for those in Crimea to avoid Russian or pro-Russian authorities as much as possible and recommended for those who would be drafted and sent to fight to surrender to Ukrainian forces.
History behind the Tartar population: Tasheva was making a reference to Soviet leader Joseph Stalin's mass deportation of the Tatar people in the midst of World War II. Some 200,000 Crimean Tatars had been forcibly deported by Stalin in 1944, in what the Ukrainian parliament has recognized as an act of genocide.
5 hr 30 min ago

From CNN's Sam Fossum and Priscilla Alvarez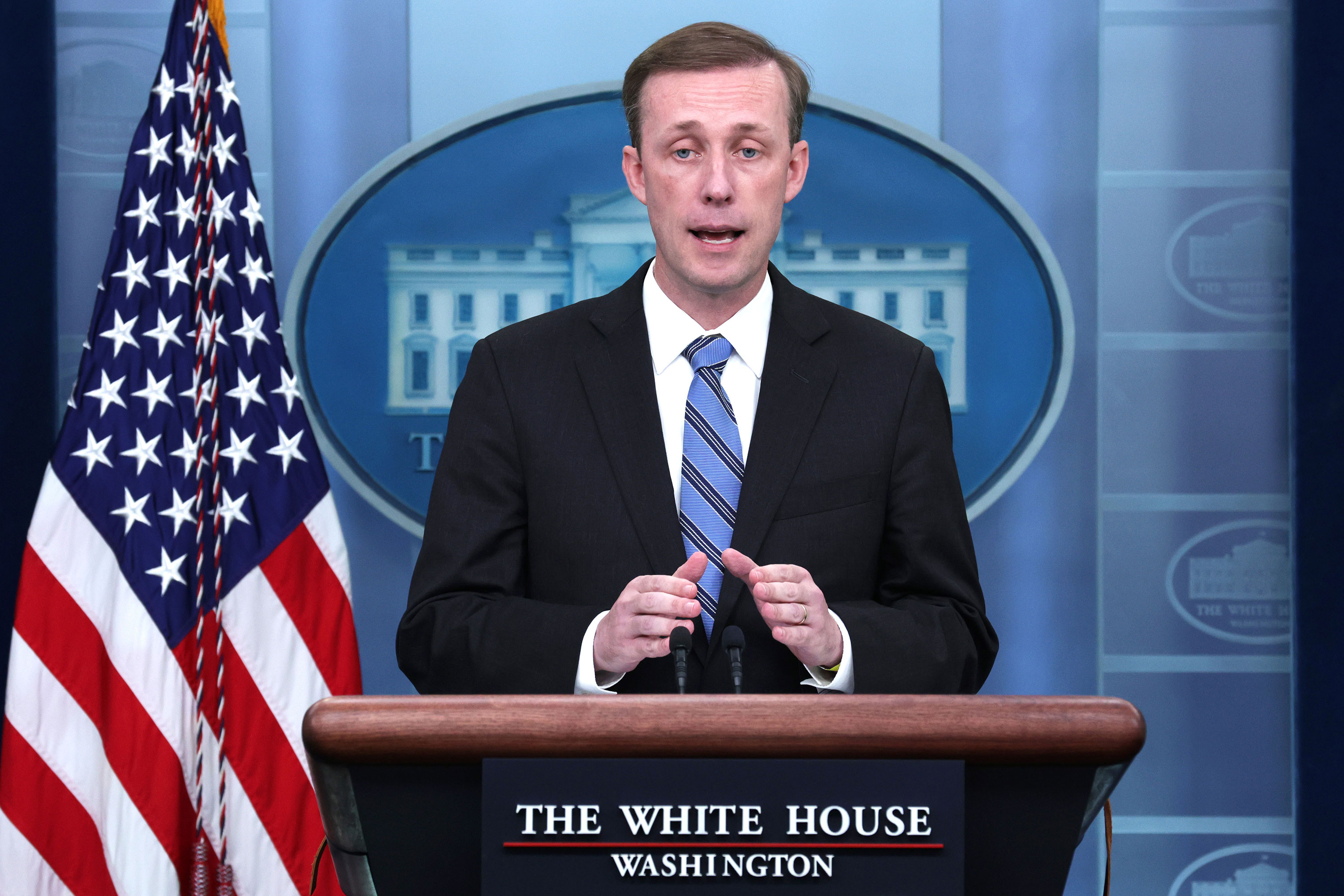 White House National Security Adviser Jake Sullivan promised Sunday that there would be "catastrophic" consequences if Russia used a nuclear weapon in Ukraine and said the US will enact further economic sanctions against Russia if the Kremlin completes its "sham" referenda.
"If Russia crosses this line, there will be catastrophic consequences for Russia. The United States will respond decisively. Now in private channels, we have spelled out in greater detail exactly what that would mean," Sullivan told Chuck Todd on NBC's "Meet The Press." 
On further consequences against Russia for the referenda in occupied Ukrainian territories, Sullivan pointed to the G7 leaders' statement from Friday and said there will be more announcements from the US in the days ahead. 
"They reiterated that there would be consequences and specified that that would include additional enhanced sanctions, including sanctions on entities and companies outside of Russia that are supporting the Russian war machine or supporting these fake referenda or Russia's efforts," Sullivan said. 
In an interview on ABC "This Week", Sullivan also said the US is planning "for every contingency." 
"We want to lay down the principle that there will be catastrophic consequences, but not engage in a game of rhetorical tit for tat. So, the Russians understand where we are, we understand where we are, we are planning for every contingency, and we will do what is necessary to deter Russia from taking this step. And if they do, we will respond decisively," Sullivan said. 
Asked about ongoing protests in Russia, Sullivan said the US is focused on continuing to support Ukraine: "The future of Russia is for the Russian people to decide."
7 hr 20 min ago

From CNN's Sana Noor Haq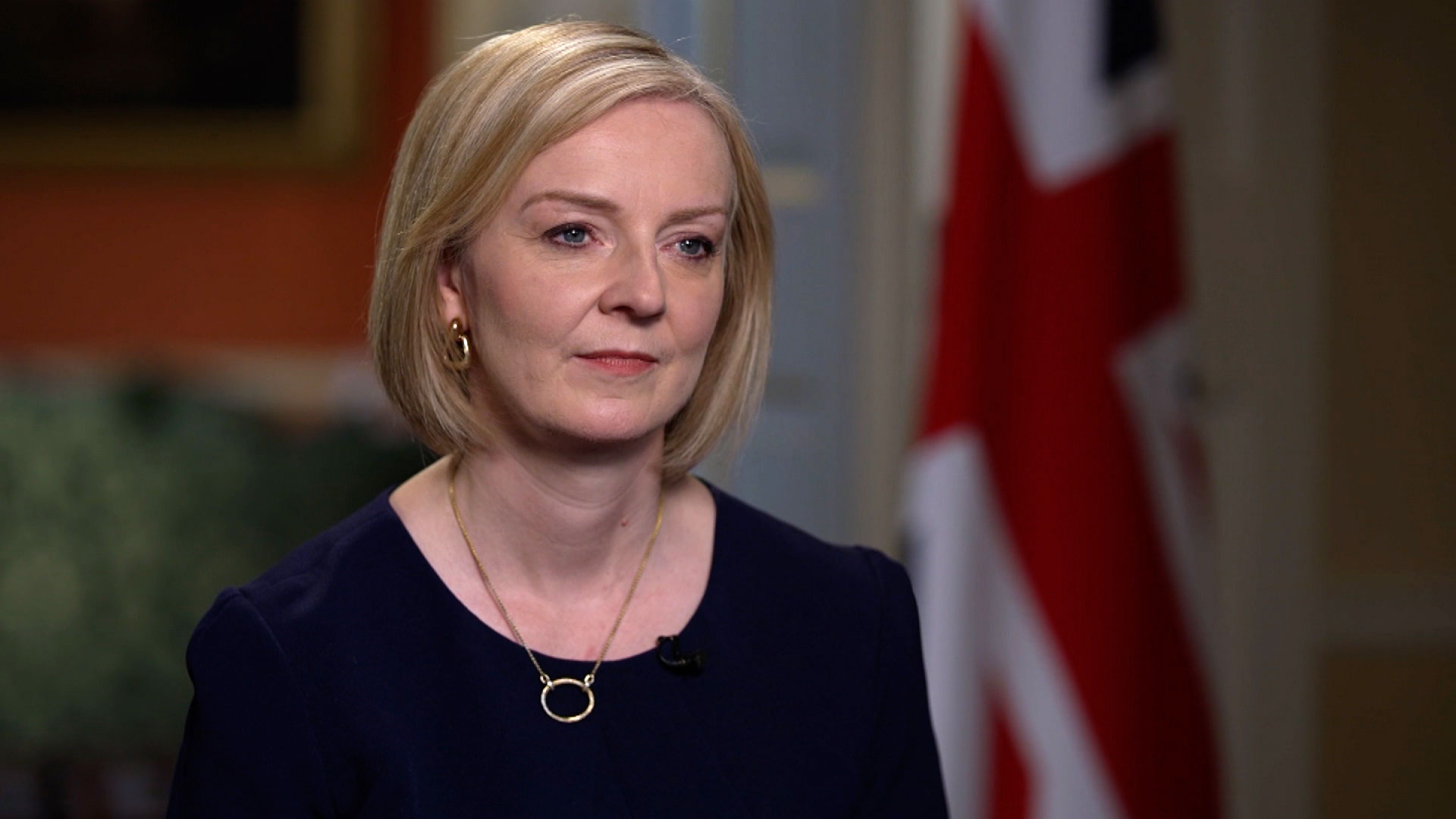 Vladimir Putin's announcement of increased military conscription to bolster Moscow's invasion of Ukraine shows the Russian President "has been outsmarted" by Kyiv, UK Prime Minister Liz Truss told CNN in an exclusive interview.
The new British leader, who takes power at a time of historic upheaval, told CNN's Jake Tapper on "State of the Union" that Putin had ordered an immediate military escalation "because he isn't winning."
"He made a strategic mistake, invading Ukraine," Truss said in her first interview with a US network, which aired Sunday.
"I think he has been outsmarted by the Ukrainians. We've seen the Ukrainians continue to push back against the Russian offensive. And I think he didn't anticipate the strength of reaction from the free world."
Truss, who faces perhaps the biggest set of challenges of any incoming British prime minister since Winston Churchill, met with US President Joe Biden on Wednesday.
In a subsequent interview at 10 Downing Street, she told CNN that Washington "is an incredibly close partner" but did not roll back controversial comments she made last year, while UK Foreign Secretary, in which she described the US-UK relationship as "special but not exclusive."
"I do think our relationship is special and it's increasingly important at a time when we're facing threats from Russia, increased assertiveness from China. You know, we are both freedom-loving democracies. We have such a strong connection," she told Tapper.
When asked how Western leaders should respond if Putin ramps up military activity in Ukraine, Truss said they "should not be listening to his saber-rattling and his bogus threats."
"Instead, what we need to do is continue to put sanctions on Russia and continue to support the Ukrainians."
Read more here.
7 hr 14 min ago

From CNN's Jorge Engels in London, previous reporting from Sarah Diab and Claudia Rebaza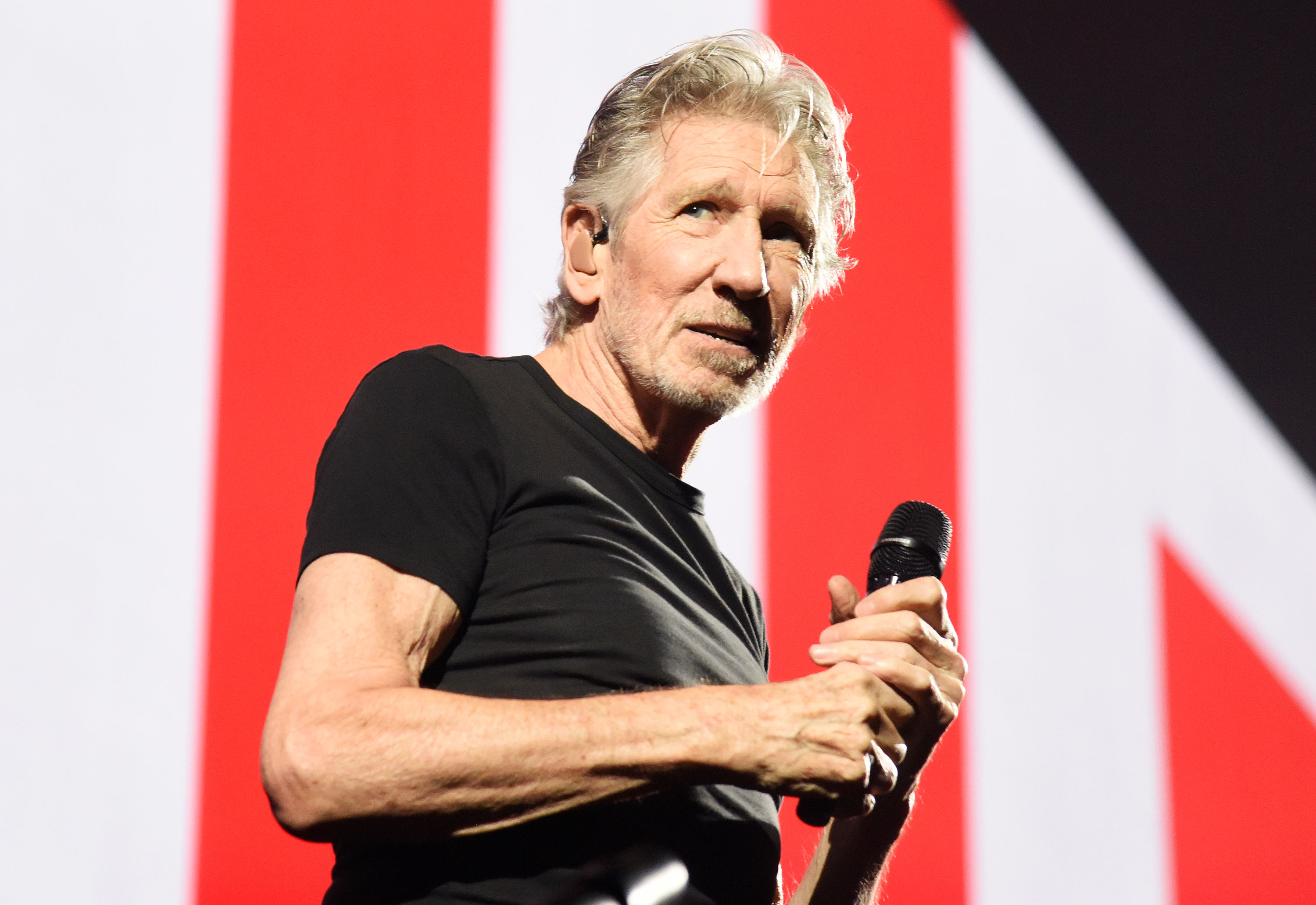 Concerts planned in Poland next year for rock legend and Pink Floyd co-founder Roger Waters have been cancelled amid backlash to the musician's stance on Russia's invasion of Ukraine.
Live Nation Poland, the concert's promoter, confirmed the cancellation Saturday without giving a reason.
"A town councilor in Krakow, a Mr Łukasz Wantuch has threatened to hold a meeting asking the council to declare me 'Persona non grata' because of my public efforts to encourage all involved in the disastrous war in Ukraine, especially the governments of the USA and Russia, to work towards a negotiated peace, rather than escalate matters towards a bitter end that could be nuclear war and the end of all life on this planet," Waters said in a statement on Facebook today.
Wantuch leveled his criticism in a Facebook post published Sept. 10.
"Roger Waters, an open supporter of Putin, wants to play at Tauron Arena in Krakow. On Wednesday we have a session of Cracow City Council and I will be speaking to the President and councilors to block this. Such an event would be a shame for our city. Let him sing in Moscow," the town councilor wrote.
What started all this? Waters penned a controversial open letter in early September to Ukrainian first lady Olena Zelenska, where he stated his opposition to the West sending weapons to Ukraine to aid the embattled country in its war against invading Russia.
Waters also accused Ukrainian President Volodymyr Zelensky of doubling back on his 2019 election campaign promises and said, without offering proof, that "the forces of extreme nationalism that had lurked, malevolent, in the shadows, have, since then, ruled the Ukraine." 
9 hr 10 min ago

From CNN's Uliana Pavlova
Tension was in the air as a long trail of cars lined up near the Petkuhovo checkpoint on the border between Russia and Kazakhstan late Friday night.
Andrei Alekseev, a 27-year-old engineer from the city of Yekaterinburg, was among many men in the queue who were fleeing Russia in the wake of President Vladimir Putin's mobilization orders.
Cars had to go through Russian and Kazakh border checks, both of which lasted about two hours.
Alekseev woke up to the news of Putin's mobilization order Wednesday morning and knew he had to flee Russia. He met up with his friends that night to discuss their next steps and decided to avoid taking any risks and to leave Russia with no plan in mind.
"At the border, all the men were asked whether they served in the army and what is their military service category," Alekseev told CNN.
"I felt that the border guards were very understanding, however, I had friends who crossed the border to Kazakhstan at a different checkpoint and they were met with grueling questions, it took them seven hours to cross," he told CNN.
Kirill Ponomarev, 23, who also fled Russia via a Kazakhstan border, said he struggled to book a ticket. The night before Putin's address he was looking up tickets out of Russia.
"For some reason, I couldn't buy a ticket, the night before while waiting for Putin's speech. And then I fell asleep without buying a ticket, when I woke up, ticket prices jumped," Ponomarev told CNN.
Men rushed to the borders, exchanging tips on Telegram channels and among friends. One-way flights out of Russia sold out within hours of the mobilization announcement.
Four of the five European Union countries bordering Russia have banned entry for Russians on tourist visas, while queues to cross land borders out of Russia to the former Soviet countries Kazakhstan, Georgia and Armenia take over 24 hours to cross.
You can read Pavlova's full report here.
9 hr 37 min ago

From CNN's Kara Fox and Luke McGee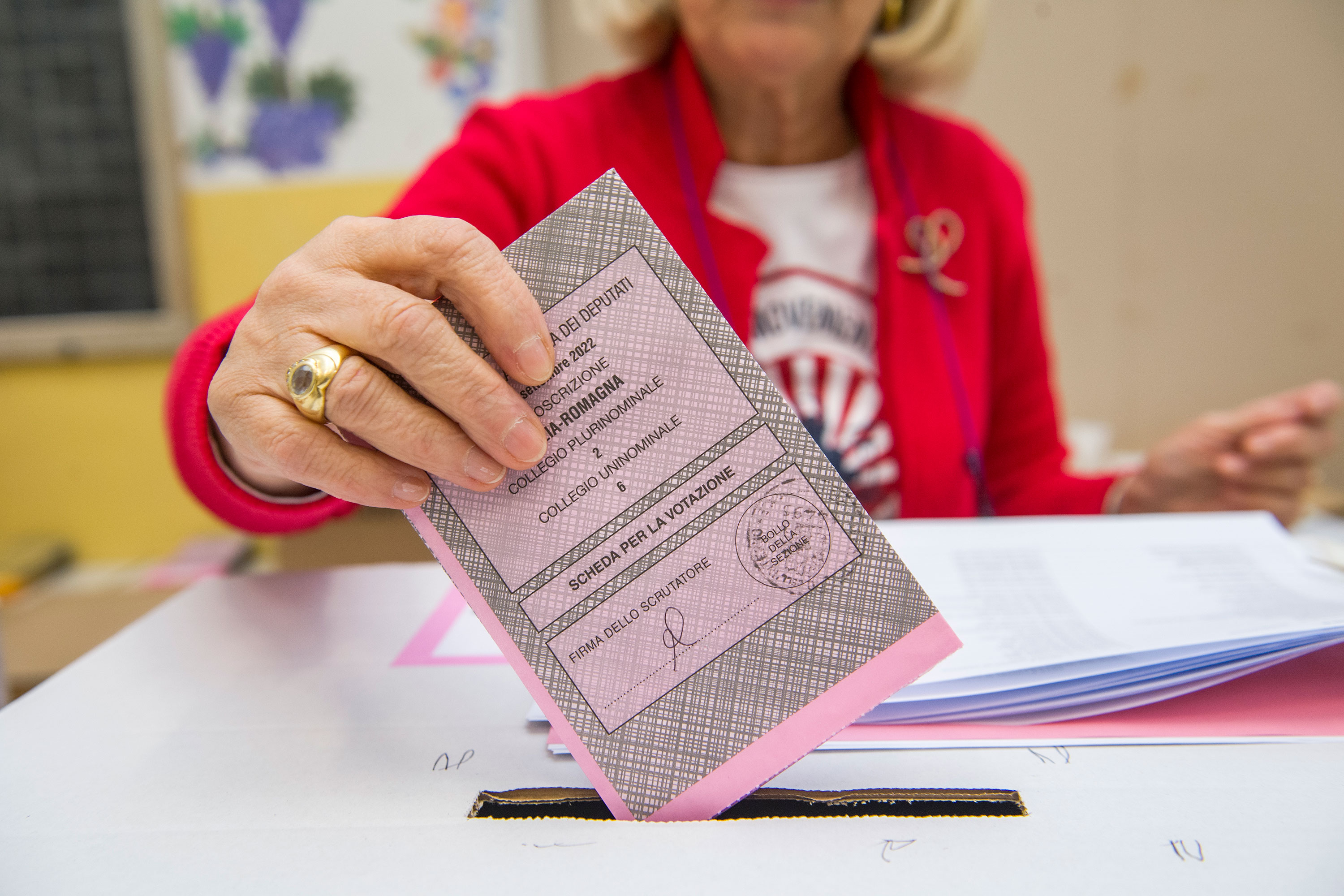 The far-right Brothers of Italy party – led by Giorgia Meloni – appears poised to make big gains in today's national election.
The race has been dominated by hot-button issues including Italy's cost-of-living crisis and Covid-19 recovery – but also, critically, the country's support for Ukraine.
Leading Italy would require a governing alliance for Meloni, including with former Deputy Prime Minister Matteo Salvini's League and former Prime Minister Silvio Berlusconi's Forza Italia parties.
Why does that matter? Well, while Meloni has steadfastly supported defending Ukraine in public statements, Salvini and Berlusconi have said they would like to review sanctions against Russia because of their impact on the Italian economy.
Both Salvini and Berlusconi have historically been friendly to Russian President Vladimir Putin. Salvini once wore a shirt with Putin's face emblazoned on it and, in 2014, CNN reported on Berlusconi's "bromance" with the authoritarian leader.
Many of Europe's populist leaders have moved to distance themselves from Putin in the time since his invasion of Ukraine. But it remains to be seen what a more skeptical governing coalition would mean for Italy's previously ironclad support for the embattled nation.