14 min ago

Analysis from CNN's John King / Written by CNN's Maureen Chowdhury
How hard would it be for Gov. Gavin Newsom to lose tonight's special election?
"It would simply take a giant revolt among California Democrats," CNN's John King said, going on to describe the political context in the state ahead of today's recall election.
"Let's go back to the history. 2018 Gavin Newsom wins the election with 62% of the vote. California is an overwhelmingly blue state. Fast forward to 2020 and the presidential election...  Joe Biden wins by an even greater percentage, 63.5% to 34% for Donald Trump. California even more voter registration trending even more in favor of the Democrats," King explained. "Not only would all the Republicans have to turn out and vote against him, a lot of Democrats would have to vote against him or stay home. It's that perfect storm of a revolt among Democrats that it would take. The polling suggests that won't happen, but we will be counting votes in a little while."
King told CNN's Anderson Cooper that populous counties are the ones to watch tonight to get an early glimpse on which direction the results will go in.
He pointed to Los Angeles County, the most populous county in the state that has a "huge part of the Democratic base."
"It will tell us, are Latinos voting? What is the percentage? How many Democrats are saying, 'Sorry, governor, we want to recall you.' The largest county in the state will give us a good glimpse of that," he said.
The second largest county, San Diego, is also one to watch. "Republicans or recall supporters need to flood out here," King explained.
Orange County is another key county to pay attention, "recall supporters need an overwhelming turnout here. If this is blue tonight, Gavin Newsom will stay in his term as governor."
Smaller red counties are areas where recall candidates would need to gain traction, King said.
"You see all these red counties? Most of them don't have a lot of people in them. Only two, only two of the top ten in terms of population counties in California, were red back in the last governor's race. So the smaller counties, it's just like the Trump election in 2020, not only do the recall supporters have to win these smaller red counties, the turnout has to be overwhelming," he explained.
Watch John King's Magic Wall analysis here:
30 min ago

From CNN's Josiah Ryan
The recall effort against California Gov. Gavin Newsom is fueled by discontent over the ongoing Covid-19 pandemic, economic woes and climate change, Democratic Sen. Bernie Sanders told CNN on Tuesday.
"What you're seeing in California and all over this country is a lot of anger and frustration," Sanders said, speaking with CNN's Anderson Cooper.
"We're dealing with Covid, we're dealing with economic problems, we're dealing with climate change," he said.
Sanders went on to say he believed it was unlikely that Republicans would prevail in their effort to oust Newsom in a state which reliably votes blue.
"I think in California the governor has done his best, done well and I think the people will respond accordingly," he said.
"The truth is that California does not need a right-wing governor, Republican governor," Sanders continued. "Historically [California has] been in recent years one of the most progressive states in the United States and I think the people want it to stay that way."
52 min ago

From CNN's Ariel Edwards Levy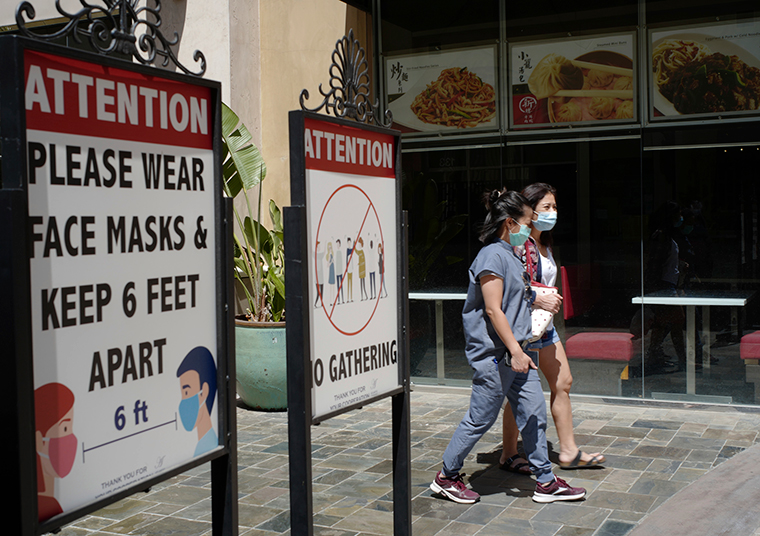 About 45% of the electorate says Gov. Gavin Newsom's policies on the pandemic have been about right, with about one-third calling his policies too strict and the remainder saying they're not strict enough. 
There's broad support for Covid-19 mitigation measures, with more than six in 10 saying that getting vaccinated is more of a public health responsibility than it is a personal choice. Most California Republicans see vaccination as a personal choice, while most Democrats see it as a public health responsibility. 
Californians are close to evenly split on the current state of California's economy, with about half calling it good or excellent, and the rest calling it not so good or poor. Voters take a more negative view about the costs of living in their own part of California, with around six in 10 saying that those costs are at least somewhat unmanageable. 
Note: The California CNN Exit Poll is a combination of in-person interviews with Election Day voters and telephone and online polls measuring the views of absentee by-mail and early voters. It was conducted by Edison Research on behalf of the National Election Pool.
In-person interviews on Election Day were conducted at a random sample of 30 California polling locations among 2,356 Election Day voters. The results also include 1,352 interviews with early and absentee voters conducted by phone, online or by text. Results for the full sample have a margin of error of plus or minus 3 percentage points; it is larger for subgroups. 
58 min ago

From CNN's Janelle Davis
There are about a hundred people lined up to vote at a polling location in Huntington Beach in Orange County, California, CNN's Stephanie Elam reported.
You cannot underestimate how important Orange County is in the gubernatorial recall election, she said.
There are about 1.8 million active voters here. The demographics have changed. This county use to be strongly Republican, but now it's a 50-50 split between Democrats and Republicans. Overall, Republicans will be keeping their eye on this county.
There are a lot of voters, and if Republicans turn out, they could have a shot at winning the gubernatorial race, Elam reported.
However, there still is an uphill battle because most of the voters in California are Democratic.
Watch Stephanie Elam's reporting from the scene:
For more from our reporters in the field, and to watch Elam's full @CNN's Instagram story, click here
50 min ago

From CNN's Paul Vercammen / Written by CNN's Josiah Ryan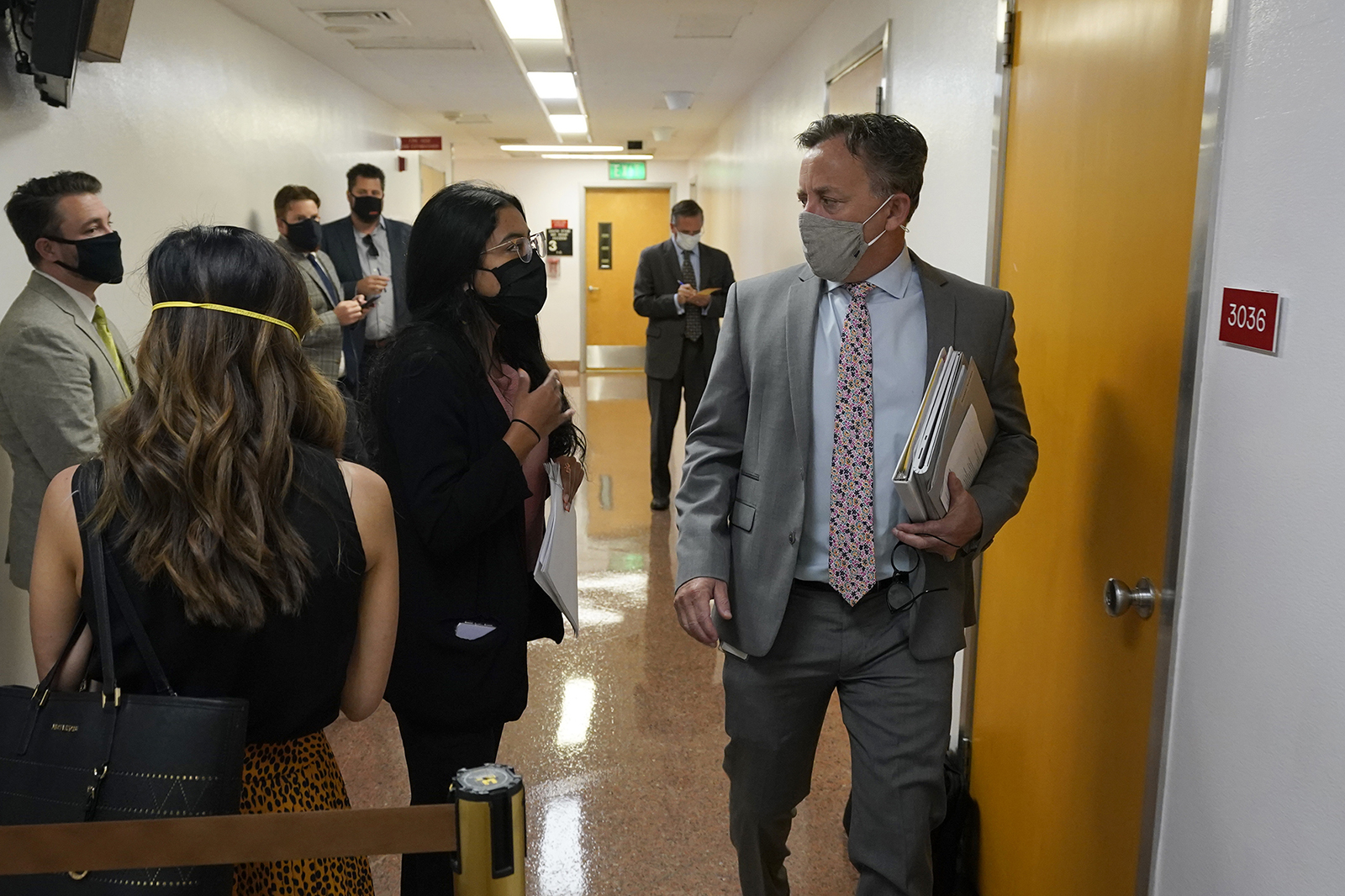 California State Sen. Josh Newman, a Democrat who lost his seat in California in a recall election before winning it back, is working to raise the constitutional bar in the state.
"The recalls are like trick plays like you would see in sports," said Newman, speaking to CNN today. "If you can't win a regular election, you go to the recall card."
Newman won the 29th District seat in 2016 but lost it in a recall in 2018. He won back the seat in the 2020 election.
"We need to draft legislation that will keep special interests and money from exploiting the recall laws," said Newman.
Newman wants to put a constitutional amendment on the ballot that would raise California's threshold for the percentage of signatures needed to hold a recall of elected officials.
State rules for recall petitions currently require signatures of at least 12% of the total number of votes most recently cast for state executive officials, such as the governor, and 20% for legislators and judges.
A different recall reform bill Newman has authored was passed by the California legislature and is awaiting the signature of Democratic Gov. Gavin Newsom, who is facing a recall now. The law would put limits on paying signature gatherers for petitions.
1 hr 25 min ago

From CNN's Josh Campbell / Written by CNN's Maureen Chowdhury
Just hours away from California polls closing, voters had a lot to say about the special election that will determine the fate of Democratic Gov. Gavin Newsom.
CNN's Josh Campbell spoke to a group of California residents in San Francisco and asked their thoughts on the election and here's what they had to say:
Michelle Glauser said that she doesn't think the election is necessary. "I went ahead and supported Gavin Newson staying in, and I hope that's what the results will be," she told Campbell.
"I have family out of state and I feel that Gavin Newsom has done a better job than other states. We've been strict about how we handle it (Covid-19) and I think that's been a good thing," Glauser said.
Tia Paneet shared similar sentiments.
"I'm against recalling Gavin Newsom. As a nurse still fighting Covid right now, it kind of scares me that they would want to take away some of these mask mandates and requirements for vaccinations. So that's one of the big reasons," Paneet said. "I'm also pro-choice and that kind of scares me if we're going to turn back the clock."
Andrea Arteaga supports removing Newsom from office, citing Covid-19 mandates.
"I think we need a change of leadership. I didn't like the mandates. I believe they were really tyrannical. They went against every right we have. I believe us as individuals — we have the right to decide whether to cover our face, whether to do business, and the mandates he put in place were a total overreach," Arteaga said.
"I think most people, right now, are voting for [Larry] Elder. While I don't share all the same views as him, he's standing up for the most important things for me, which is the right to govern our own body," Arteaga added.
Polls in California are set to close at 8 p.m. PT — or 11 p.m. ET.
2 hr 2 min ago

From CNN's Ariel Edwards Levy
The coronavirus pandemic remains at the top of voters' minds, with about one-third saying it's the biggest issue for the state, according to a California exit poll conducted for CNN and other news networks by Edison Research.
That's followed by just over one-fifth saying homelessness, one in six saying the economy and wildfires, respectively, and slightly under one-tenth saying crime.
Concerns vary across partisan lines: more than four in 10 Democrats call coronavirus their top issue, while only about one-fifth of Republicans say the same. On the flip side, Republicans are more than three times as likely as Democrats to name the economy as their top concern. 
Voters have mixed outlooks on the pandemic's course in California, with about four in 10 saying the situation is getting better, three in 10 that it remains about the same, and just under one-quarter that it's worsening. 
Women make up slightly more than half the electorate in the California recall, just as they did in the 2020 presidential election and the 2018 gubernatorial race. White majorities narrowly make up the majority of the electorate, the exit poll data finds, with the remainder people of color. In 2020 exit polling, about half the electorate was White; in 2018, it was 63%. 
Note: The California CNN Exit Poll is a combination of in-person interviews with Election Day voters and telephone and online polls measuring the views of absentee by-mail and early voters. It was conducted by Edison Research on behalf of the National Election Pool.
In-person interviews on Election Day were conducted at a random sample of 30 California polling locations among 2,356 Election Day voters. The results also include 1,352 interviews with early and absentee voters conducted by phone, online or by text. Results for the full sample have a margin of error of plus or minus 3 percentage points; it is larger for subgroups. 
CNN's David Chalian has more:
1 hr 7 min ago

From CNN's Janelle Davis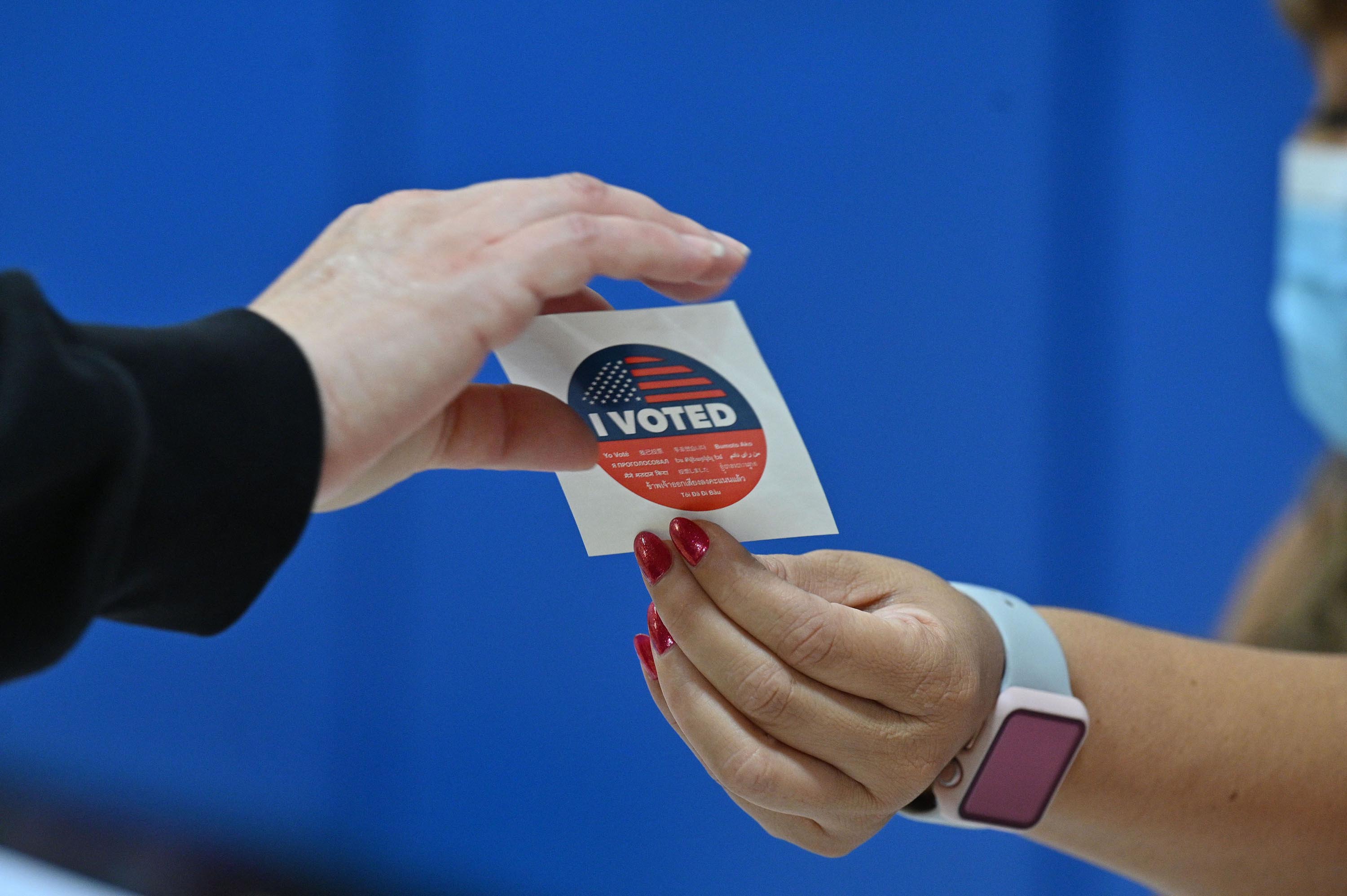 Polls in California are set to close at 8 p.m. PT — or 11 p.m. ET — tonight. CNN's National Political Reporter Maeve Reston is covering the race and says the first drop of ballots, from early voting, will come right after the polls close.
"We already know what a lot of those are. We know they'll be heavily Democratic. A lot of those people are Democrats who voted early," she explained.
After this "blue drop," you'll see more Republican votes as in-person ballots come in, Reston said.
California is famous for taking forever to count because there are just so many ballots to be counted. People are expecting this to be a decently high turnout election — even though it's a special election in the middle of September.
Also remember, there will be the "after count," which includes the mail-in ballots that were stamped on Election Day, but are received up to seven days after the election. In some recent elections, as much as a third of the total ballots cast were counted in that after count.
So be ready for:
First, a blue drop of early votes
Then, a red wave of people who voted in-person
Finally, the mail-in ballots that are received and counted
Watch more from Reston:
2 hr 33 min ago

From CNN's Veronica Stracqualursi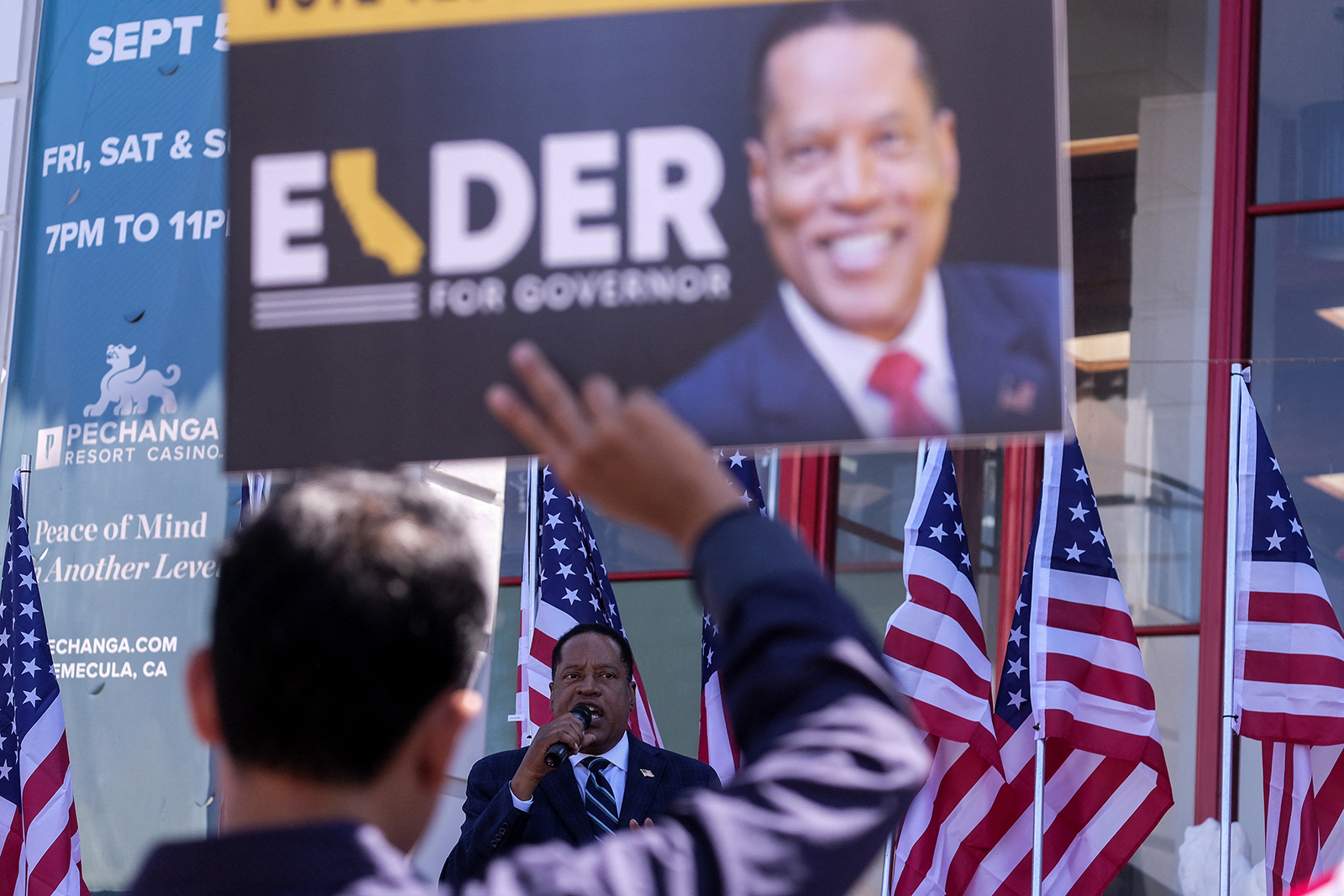 A colorful cast of more than 40 candidates from all political persuasions are vying to replace Democratic Gov. Gavin Newsom in California's recall election, but only a handful have managed to break through the pack.
If a majority of California voters vote "yes" to the recall, Newsom will be out of office and the top vote-getter on the ballot's second question – about who should replace Newsom – will take over.
These are some of Newsom's most notable challengers:
Larry Elder: Newsom's leading Republican replacement appears to be conservative talk show host and attorney Larry Elder, who would be California's first Black governor if he wins the recall election. Elder's rise has come with heavy scrutiny — even calls from fellow GOP recall opponents to drop out of the race — because of his long history of disparaging remarks about women. He has also been accused of domestic violence and of brandishing a gun in 2015 by his then-fiancée and former employee Alexandra Datig. Elder has denied the allegations. Like his rival Republican recall candidates, Elder would repeal Newsom's Covid-19 mask and vaccine mandates for state workers, who must either be vaccinated or tested weekly for the virus. 
John Cox: The Republican San Diego businessman has been successful in generating headlines, including when he was served with a subpoena while onstage during the Aug. 17 debate. Running as a political outsider, Cox has never held office before and lost badly to Newsom in 2018 when he challenged the Democratic governor, who won with more than 60% of the vote. Cox opposes California's Covid-19 vaccine mandates and mask requirements. During a debate early in August, he called Newsom's handling of the pandemic "an absolute disaster" that "resulted in far more danger and far more problems." His plan to end California's homelessness problem is to force the state's unhoused population to receive mental health and addiction treatment before being provided housing.
Kevin Faulconer: The former San Diego mayor has the experience of being elected to lead a Democratic-majority city as a Republican, which he has touted as an asset to governing the blue state of California. He has proposed $1 billion in annual wildfire prevention funding, an exemption for military retirees from income taxes, a cut in the marginal tax rate to 0% for the first $50,000 earned by individuals, and the first $100,000 earned by families, who make less than $1 million a year.
Caitlyn Jenner: Jenner created a lot of buzz around her candidacy early in the race, given her celebrity status as a former Olympic athlete and reality television star. But ever since, the Republican candidate has had to defend herself from criticism that she's not a serious candidate for governor. Like Elder, Jenner has declined to appear at debates, saying she will not debate fellow recall candidates unless Newsom is present. In an interview with CNN's Dana Bash, Jenner said she favors a path to citizenship for the 1.75 million undocumented immigrants in the state's labor force. She also opposes transgender girls participating in girls' sports and said she would consider changes to environmental regulations in California.
Kevin Kiley: First elected to the California State Assembly in 2016, the Republican state lawmaker has made a name for himself as one of Newsom's "chief antagonists" in the legislature. Kiley has proposed ending California's state of emergency for the Covid-19 pandemic. Asked about school mask mandates for children during one of the debates, Kiley argued that parents "know what is best for their kids" and should be making decisions themselves.
Kevin Paffrath: This Democratic candidate hoping to replace Newsom, despite Newsom and Democratic leaders urging their party's voters to simply vote "no" on recalling the governor and leave the question of who should replace him unanswered. A real estate broker who built a following of 1.7 million subscribers on his YouTube channel, Paffrath describes himself as a "JFK-style Democrat who can work with our Democratic legislature."
Read more about the candidates here.