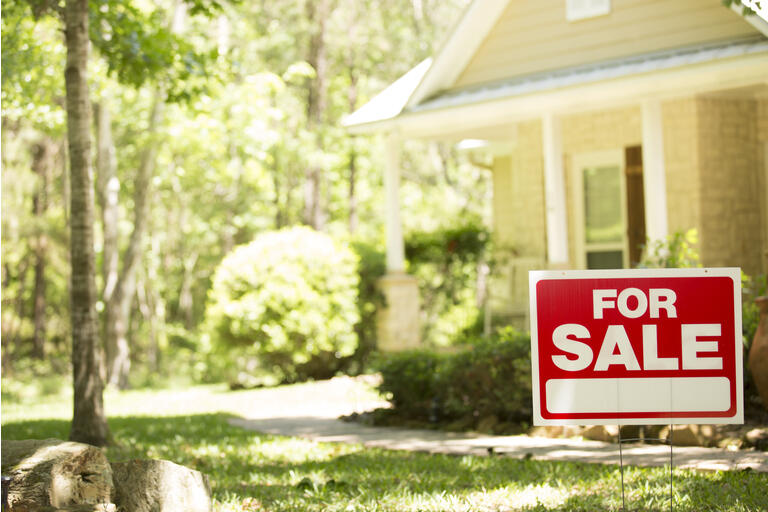 fstop123/E+ via Getty Images
One of my favorite topics to discuss on Seeking Alpha is how rental properties compare with publicly-listed REITs.
It interests me so much because I started my career in private equity real estate, made private investments, but later sold them and transitioned into the REIT space when I came to the realization that REITs were superior investments in most cases.
I have written several articles on this topic so I won't rehash all the same facts, but in short:
REITs offer higher returns: Several studies have shown that REITs outperform private real estate investments by 3-6% per year on average over a full-market cycle. That's mainly because REITs enjoy significant economies of scale and have access to the public equity market, which allows them to grow externally by raising capital at cost x and reinvesting it at return y, earning a positive spread in between. Private investors don't have this possibility and so their growth is limited to what they can achieve organically.
REITs are a lot safer: REITs are public, liquid, diversified, and conservatively financed. Rentals are private, illiquid, concentrated, and heavily leveraged in most cases. Thousands of private real estate investors file for bankruptcy each year. Yet, REIT bankruptcies are extremely rare because once you have this level of diversification, it is really hard to mess it up. The only bankruptcies that we have seen in the REIT sector were overleveraged mall REITs like CBL (CBL) during the pandemic.
REITs are completely passive: Since REITs are professionally-managed, you don't need to worry about the ugly 3 Ts: tenants, toilets, and trash, and you earn returns without having to actually work for them. Even better, the management is professional and highly cost-efficient. In comparison, owning and managing one or a few rental properties is time-consuming and cost-inefficient. It is closer to a part-time job than a passive investment, and it isn't worth it for most people.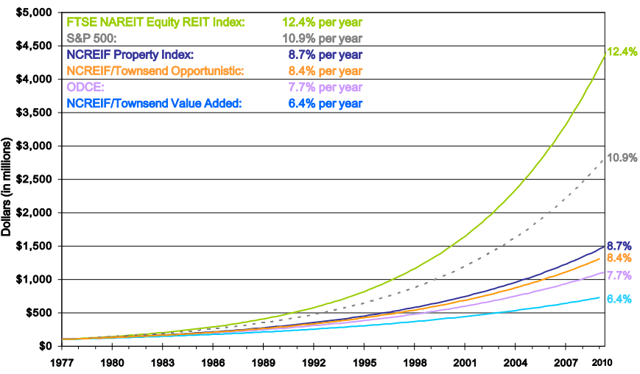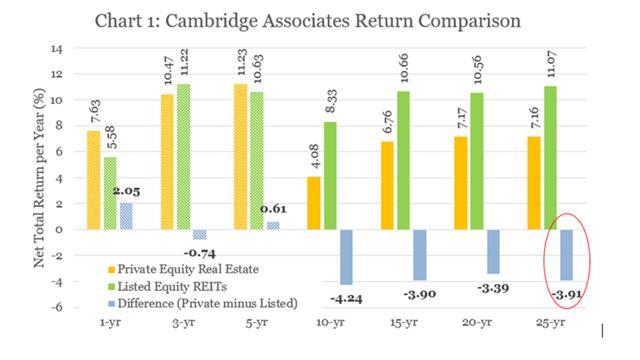 source
All of these reasons are good enough for you to stop investing in rentals to buy REITs instead. In most cases, they offer higher returns with lower risk and don't require any effort from you, the investor. I would go a step further and argue that even if rentals were more rewarding (which they aren't), REITs would still provide better risk-and-hassle-adjusted returns in most cases.
But the story doesn't end here.
There are actually many more reasons to favor REITs, some of which you probably haven't even considered, and I want to shed more light on those in today's article.
In addition to what was mentioned previously, there are 5 other reasons why I quit buying rental properties to buy REITs instead:
Reason #1: Rental Can Be a Huge Legal Liability. REIT Investors Are Better Protected.
Charlie Munger has famously said that there are three ways for smart people to go broke: "liquor, ladies, and leverage".
But even more important is the concept of liability. Liquor, ladies, and leverage can only ruin you if you are personally liable for the resulting costs.
Most business owners and investors ignore the topic of liability until it is too late to do anything about it, and that's how a lot of wealthy and successful rental investors go broke every year.
They are personally liable for all the loans, and they are also the first person who gets sued by tenants, contractors, brokers, etc. when things go south.
To give you an example: let's assume that some mold has been accumulating in the restroom of your rental, your tenant gets sick, and decides to stop paying rent and sues you for an exorbitant amount, claiming that you did not take proper care of the property and put his/her health at risk.
Now let's make it a bit worse: let's also assume we just entered a recession and you lost your job, just when you needed it the most to make up for the missed rent payment and the lawsuit. Maybe, you are now also missing additional rent checks from other tenants because 50%+ of Americans live paycheck to paycheck.
If you are long enough in business, it is only a question of time before you get in this type of trouble. Suddenly, you could face significant financial and emotional stress because you are personally liable for the loans and the potential lawsuits.
Importantly: there is no point in earning good returns for 20 years if, in the 21st year, you are hit with missed rent payments, lawsuits, and the bank takes it all away from you because you defaulted on your loans. Rental investors commonly use up to 80% leverage, which leaves little margin for error, and that's why so many end up filing for bankruptcy each year.
REITs, on the other hand, are structured as corporations, and as a minority shareholder, you enjoy the full benefits of limited liability. This means that you cannot lose more than you invest and you will never be sued by anyone for more than that. This is huge risk mitigation because if you are a landlord for long enough, it is inevitable that you run into some kind of liability issues at some point. Yet, it is rarely mentioned when debating the characteristics of REITs vs. rentals.
I sleep a lot better at night knowing that no one has ever lost money owning a well-diversified portfolio of REITs in the long run. The same cannot be said about rentals because they expose you to liability issues.
Reason #2: Rentals Put Your Personal Credit On The Line. REITs Give You The Benefits of Leverage Without Affecting Your Credit
Related to the previous point, when you buy a rental, you commonly need to put your personal credit on the line. Banks require this because it reduces their risk, but it also means that you cannot just put your LLC into default and walk away. Your credit rating is also impacted by the amount of debt that you are taking, which could limit you in other ways. Perhaps, you would like to create a new business and need a loan to get started. That's just one example among many others.
With REITs, you enjoy the same benefits of leverage, but importantly, you are not personally liable for them and it does not affect your credit score.
There is this common misconception that you cannot use leverage when investing in REITs, but the reality is that REITs are already leveraged. When you buy shares, you provide the equity and it is the equity that's publicly traded. Then the REIT takes mortgages to leverage your equity and earn better returns. In the end, you enjoy the same benefits of leverage, but you are in a much safer position and it does not affect your personal credit. This is particularly important for me because I am a small business owner.
Reason #3: Rentals Can Ruin Your Career and Lifestyle. REITs Give You Complete Freedom To Advance in Your Career and Personal Life.
Rental investments take a lot more time than most people understand. Just to find the right deal, negotiate it, do your due diligence, secure a loan, rehab it, and find a tenant, you may spend 10s of hours per week for months on end.
Then after that, you still need to manage the property and deal with all the issues that come with that, and finally, someday, you may want to sell the property, which will again, require a lot of time and effort.
What a lot of people don't realize is that all this work could have been put into your main career, which probably earns you a lot more money than managing rentals, which is a low-margin business.
The worst example is when a physician or a successful business owner or other high-earner decides to invest in rental properties. This person could make a lot more per hour working their main job than what they would ever get for the efforts they put in the rental business.
But even if your value is let's say $20 per hour, then you probably shouldn't buy rentals because you are much better off putting that time into earning money through your job, investing in REITs, and focusing on advancing in your career. The rentals will only slow you down and result in fewer earnings in the long run.
Let's take a look at a real-life example:
Purchase price: $200,000
Monthly NOI: $1,000 (after major expenses)
On the surface, it seems like a pretty good with a 6% cap rate, which turns into a double-digit annual yield once you add leverage to it.
But now, let's assume that you use 5 hours per week on average in the year (to find the property, negotiate it, rehab it, market it, manage it, etc.) and the value of your time is $20 per hour, then you need to deduct $100 per week or $400 per month from the above return. After all, that $400 is not the result of a passive investment. It is the result of your work and you could have earned it working your other job. So the real monthly NOI is just $600, and the real cap rate is 3.6%.
Is this 3.6% cap rate worth all the risk and work?
No. You would be much better off focusing on your career and using the extra earnings to invest in REITs. And even ignoring the financial aspect, REITs will also improve the quality of your lifestyle. You won't have to worry about tenants, repairs, midnight calls, and weekends being ruined from bad surprises. You also won't be stuck in one location, be able to travel, and sleep better at night. This freedom is very important to me.
Reason #4: Rentals Can Expose You to Important Tax Complications. The Taxation of REITs is More Simple And Efficient.
Another common misconception is that rentals are highly tax-efficient, especially when compared to REITs.
I disagree.
Yes, you can depreciate your property to lower your immediate tax burden, but in the process, you also lower your cost basis which will hurt you down the line when you sell the property, and/or lower your flexibility to switch from an asset class to another. In the worse case, you are then stuck with your rentals forever and can never sell them due to the tax hit that it would cause.
Moreover, you will again end up spending a lot of time trying to deduct expenses, depreciate the property, document it all, etc., and all of that time that could have earned you money working your main job. The complexity, in the end, costs you money indirectly, even if you don't see it.
REITs, on the other hand, are very simple and tax-efficient.
They pay no corporate income tax.
They distribute 60%-70% of their cash flow, which means that 30%-40% isn't taxed at all.
A portion of the distribution is "return of capital," which isn't taxed.
The portion that's taxed enjoys a 20% deduction.
Generally, REITs are more growth-oriented real estate investments, and therefore, more than half of the total return is tax-deferred appreciation.
Finally, if you want to defer all taxes, you can simply hold them in a tax-deferred account. You still retain the freedom to move from one asset class to another.
When you take all of that into account, I actually pay less taxes investing in REITs and it is also a lot easier and more time-efficient.
Reason #5: Rentals Limit You to One Market. REITs offer a Larger Universe of Opportunities.
Finally, if you want to buy a rental, you are limited to investing in your local market. Sure, you could use a platform like Roofstock to buy a property on the other side of the country, but that's the last thing that I would do. If you don't know your market and you aren't close to the property, then you are taking even bigger risks and the management will be costly and complicated. As an example, it is not uncommon for property managers to take 12% of the rental revenue when the management cost of REITs like Realty Income (O) is only ~4% of their revenue.
REITs, on the other hand, let you invest in all property sectors and geographies from the comfort of your own home. There are over 20 different property sectors to choose from:
And also over 20 different countries that have REITs these days:
USA
Canada
UK
France
Germany
Singapore
Japan
Australia
Etc.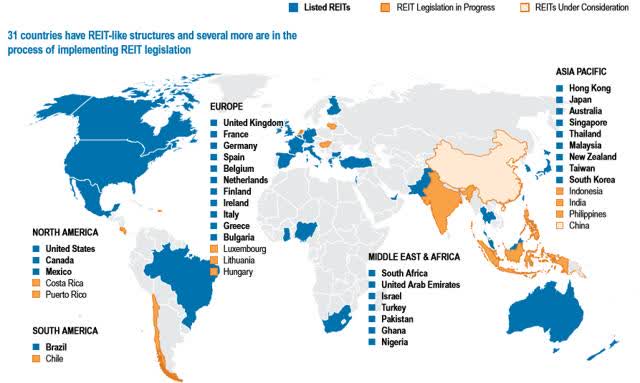 At High Yield Landlord, we invest globally and across most of these property sectors, which ultimately leads to higher returns with less risk. Right now, we are invested in properties in the US, Canada, France, Germany, Estonia, Singapore, etc., and have professional management teams with skin in the game taking care of it for us.
Our approach to REIT investing has generated ~20% annual returns since the inception of our portfolio, and we have done so well because we have such a large universe of opportunities to choose from:

Source: Interactive Brokers (IBKR)
Bottom Line
To recap:
REITs
Rentals
Higher returns Lower returns Lower risk Higher risk Passive Work-intensive No liability risk Liability issues No personal credit risk Personal credit risk Boosts lifestyle and career Hurts lifestyle and career Simple and efficient taxation
More complicated taxation
that limits your flexibility
Wide universe of opportunities
Limited universe of opportunities
These are all the reasons why I favor REITs over rental properties, and that's despite coming from a private equity background, having studied two university degrees in real estate investing, and being born in a family of real estate entrepreneurs.
If I decide to favor REITs, it is simply because they are far superior investments in most cases.
Are there exceptions? Of course, there are. As an example, I think that most people should buy their home because it has non-financial benefits. Some crowdfunding platforms like FarmTogether may also make sense for specialty property sectors like farmland; and finally, if you are getting an exceptional deal, then, by all means, a rental property may be a good investment.
But the point of this article is that in 90%+ of cases, you will do a lot better with REITs and that is why I quit buying rental properties years ago.